What's New
Just Published, Open a Window, Walk Through a Door, a poetic journey through many of life's challenges offering ideas and solutions that shed light on living a fulfilled life of joy and happiness.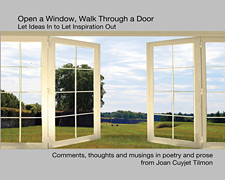 Preview the book here. Available in hardcover and softcover.
| | |
| --- | --- |
| | I Just Wanted to Fly! is Jim's story of his journey from seeing an American Airlines airplane at age 5, deciding he wanted to be a commercial airline pilot and reaching that goal 26 years later. Soon to be published, it is a fascinating and remarkable story particularly because he is a black man who grew up in a segregated society and faced challenge and resistance nearly every step of the way. |
Hear recent interviews with Jim on Malaysia Airlines flight MH370 on our Aviation page
PUBLIC SPEAKING TOPICS

From Jim Tilmon
"It is my passion to bring a message of belief and confidence to as many as will listen. My primary topic is: The Power of Belief – in Yourself and Your Life.

It was belief that my dream would become reality that took a 5-year old boy from Oklahoma to the cockpit of an airliner as one of the first five Black commercial pilots in the United States of America. Was there adversity? Absolutely. Were there obstacles? Many. Did my belief ever waiver? No.

Know that you can dream your own dreams and they can come true if you are willing to truly develop an unwavering belief in yourself and your capabilities. It happened for me. Let me share my story with you.

Please see the Public Speaking page to learn about other topics!
Missed "Flight" in the theaters? Now available in Blu-ray, DVD and Digital
Jim Tilmon's eBook is now available at Amazon Kindle, iTunes/iBookstore, Barnes & Noble and Sony ReaderStore, Kobo and Copia!
Age is an Attitude, Tips and Tricks for Young People over 60, by Jim Tilmon
Click HERE for Amazon Kindle
Click HERE for iTunes/iBookstore
Click HERE for Barnes & Noble Nook
Click HERE for Sony ReaderStore
Click HERE for Kobo
Click HERE for Copia

Announcing the relaunch of Angel Whispers under the album title Soft Songs, music that can soothe the busy soul.

Now available for download. Click below to find out more and where to get your copy.

WWW.TILMONGROUP.COM/MUSIC_HOME.HTM